Welcome to Austin Bluffs Laundry and Self-Service.
We are open for regular business hours, 7 days a week from 7 am to 9:30 pm with the last loads starting before 8:00PM.
Need help with your laundry? Try our full service laundry service. Our expert attendants will
sort, separate, wash, dry, and fold your clothes so you are looking your best!
Join our Loyalty Program and start to earn credits and discounts immediately!
Laundromat,
Wash & Fold Service, and Delivery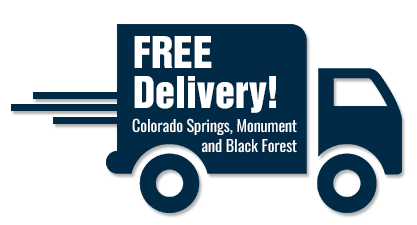 Monday-Friday
Weekends by appointment

Wash and Fold Service
Full service laundry is where you bring in your laundry and we do it for you. We offer next day turn around as well as same day service if you are tight on time. $1.75 per pound for clothing.
We also do laundry for bedding, sleeping bags, table cloths and other large items.
Commercial laundry services are also available with monthly invoicing and payment options.

The Laundromat
We're Open 7 days a week with expert staff there to assist you on how to use our machines. You can pay in cash, credit cards and we offer a free loyalty program where you earn free washes and receive immediate discounts. We also have flat pricing where you will never pay extra for warm or hot washes. 

FREE Delivery
FREE pick up and delivery for laundry.
We pick up from your home or business and can schedule a weekly or bi-monthly pick up with regular days and times.
If you have an emergency and just need the convenience of getting your laundry done so you can do other things we can help with that too.
Family Operated Since 1995!

Our Machines
Large selection of 8, 6, 4 and 1 load washing machines. Perfect for a single load of clothes to large comforters and large loads of laundry.  Large selection of standard and extra large dryers. 

Amenities
Lounge area with tables and chairs, satellite TV, drinks and snack machines, soap machines and change machines. Facilities are always clean with helpful attendants ready to help you do your best laundry.

Payment
Our machines take coin, credit/debit cards, and loyalty cards. We also offer change for our customers from their credit. Earn immediate discounts and free washes with free loyalty program.

What's Nearby
In the same shopping center with Walmart Neighborhood Market, Goodwill Retail Center, Waffle House, Taco Bell, Dicky's BBQ. Also close to Dutch Brothers Coffee and Starbucks, McDonald's, Burger King, Little Caesar's and King Soopers.
All machines take quarters or credit/debit cards!

Where to Find Us
4168 Austin Bluffs Parkway
​Colorado Springs, CO 80918
(next to Goodwill and Walmart Neighborhood Market)
Hours of Operation
Monday – Sunday,  7am-9:30pm
***Last loads MUST be started before 8:00pm***
HOLIDAY SCHEDULE 2023
November 22nd Closing at 7:00PM
Last Loads at 5:30 PM
 November 23th (Thanksgiving) Closed
December 24Th (Christmas Eve) Closed
December 25th (Christmas Day) Closed
December 31 (New Year's Eve) 7AM-6PM
Last Loads at 4:30PM
Tap Photo to See the Gallery!