FREE Delivery Laundry – 6 DAYS A WEEK
Colorado Springs, Monument, Black Forest, Peyton and Fountain
FREE Laundry Delivery Service!
When you come home after a long day, are you greeted by a big heap of dirty laundry?Laundry piles up quickly and washing it can feel like a never-ending chore. But it does not have to be a never-ending cycle!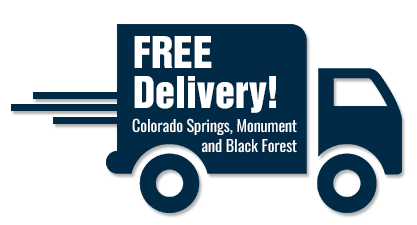 Let Austin Bluffs Laundry do it for you!
At Austin Bluffs Laundry, we are committed to providing excellent laundry delivery services in Colorado Springs, Black Forest and Monument. We offer next and same day laundry service with both pickup and delivery to your home.
We handle all your items with care and use only high-quality detergent and fabric softener. We professionally clean your laundry for you, leaving you with the brightest whites and freshest colors. We also fold your clean laundry and return it right to your doorstep, bagged and ready to be worn.
We value your time, and our services are always prompt and on-schedule. Our goal is to simplify your day by removing stains and stress. Our convenient laundry pickup and delivery service is available 6 days a week.
DELIVERIES – 6 DAYS A WEEK
Most laundry orders can be finished and delivered next day.
Weekly, bi-monthly, monthly or as needed pick up and drop off available.
Corporate accounts with monthly invoicing available.
Start saving time and get your delivery laundry with these 3 easy steps
Fill out the contact us form including your name, e-mail and physical address and phone number.
We'll contact you to schedule your pick up day (usually next day and sometimes same day)
We'll take your laundry cleaning to our facility and give you a price and finish date.
If you are satisfied with the pricing we will begin the order. If you are not satisfied with the price we will bring back your laundry the following delivery day.
We will deliver your clothes folded and bagged to your door on the agreed upon date (next day for laundry in most cases).
You pay when we deliver with credit card.
Getting started is quick and easy! Simply fill out the form at the bottom of the page with your name, address, email, and phone number. Then, we will contact you to schedule your laundry pickup and delivery dates. In most cases, you will get your laundry back to your doorstep by the following day, or 3-4 days. You will pay with your credit card when we return your laundry, whether next or same day laundry. We charge either by the pound or individually for items such as comforters and duvets.
For added convenience, we offer weekly, bi-weekly, monthly, or as needed pick up and drop off. Corporate accounts with monthly invoicing are also available! If you have a particular request other than clothing, mention it in the comment section below and we can share specific information regarding your item. Fill out the form below to get started, and we will be in touch soon for your specialized delivery laundry service.
Schedule Your Next Pick Up!